Author: Published time:2022-05-19 09:02 Reading times:152
Recently, TJL received orders from Lao customers to produce 40 sets of DN100 soft seal Non rising stem gate valves
This time the customer needs very urgently. TJL pays close attention to production scheduling, completes the order within the specified time, and delivers the goods, which has been highly praised by the customer.
Soft seal gate valve, also known as elastic seat seal gate valve, is a manual valve used to connect pipeline medium and switch in hydraulic engineering. The structure of soft seal gate valve is composed of valve seat, bonnet, gate, gland, valve stem, hand wheel, gasket and hexagon socket bolt. The inside and outside of the valve channel are sprayed with process electrostatic powder. After baking in a high-temperature furnace, it ensures the smoothness of the whole channel port and the wedge-shaped groove port inside the gate valve, and also gives people a color visual sense in appearance. The soft seal gate valve usually adopts blue blue highlight for general water conservancy, and red highlight for fire pipeline. Moreover, it is deeply loved by users. It can even be said that the soft seal gate valve is a valve made for water conservancy.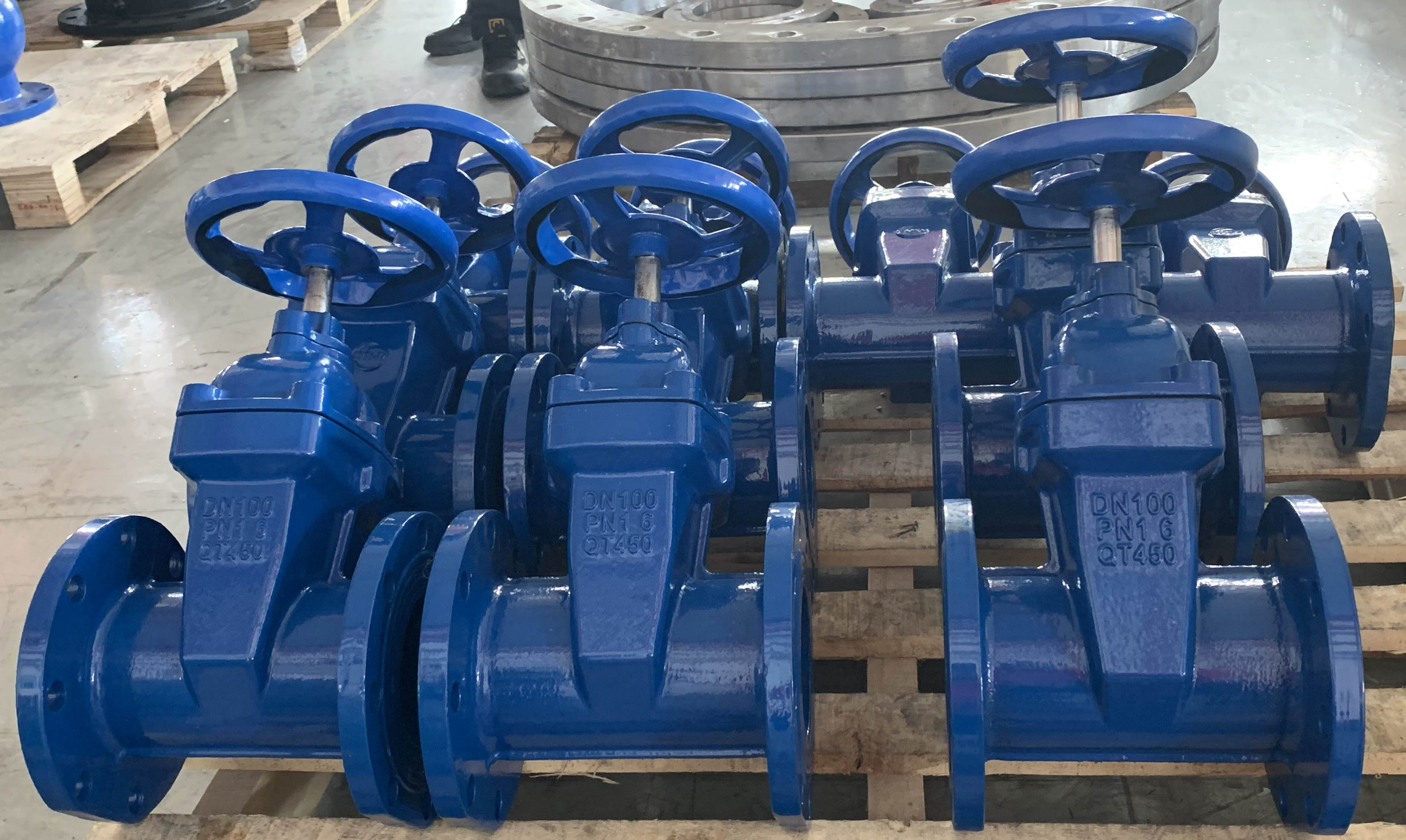 What are the advantages of soft seal gate valve:
The advantages of soft seal gate valve must first be from its cost. Generally, most of the soft seal gate valve series adopt nodular cast iron QT450 as a whole. The cost of this valve body will be much more affordable than that of cast steel and stainless steel. Compared with mass procurement, this is quite affordable, and under the condition of guaranteed quality.
Then, from the performance characteristics of soft seal gate valve, the gate of soft seal gate valve is lined with elastic rubber, and the internal structure is wedge structure. The top hand wheel mechanism is used to lower the screw rod and drive the elastic ram to press down, which is sealed with the internal wedge-shaped groove. Because the elastic rubber RAM can stretch and squeeze, so as to achieve a good sealing effect. Therefore, the sealing effect of soft seal gate valve is obvious in water conservancy and some non corrosive media.
Thirdly, for the later maintenance of soft seal gate valve, the structural design of soft seal gate valve is simple and clear, easy to disassemble and install. When the valve is used for a long time, the elastic gate in the gate valve will be opened and closed frequently, and the rubber will lose elasticity over time, resulting in loose closing and valve leakage. At this time, the structural design advantages of the soft seal gate valve are reflected. The maintenance personnel can directly disassemble and replace the gate without dismantling the whole valve, which saves time and labor and saves human and material resources on site.