Author: Published time:2017-07-26 16:49 Reading times:919
1.Pipes and valves must have been cleaned before operation.
2.Valve actuation finish the operation by rotary with a bolt, according to the input size: the valve will close when the forward rotation reaches 1/4. The valve will open when the reverse rotation reaches 1/4.
3.The valve will open when the actuation's indicator is parallel with the line; the valve will close when the indicator is perpendicular to the line.
The maintenance of a ball valve:
Some factors determine whether they will have longer service life and free of maintenance time.
Under normal working conditions, there is a need to keep adaptable temperature and pressure ratio and rational corrosion data.
Attention: the fluid pressure is still existing when the ball valve is closed.
Before maintenance, you need to remove the line and make the valve open.
Before maintenance, you need to disconnect the power and air supply.
Before maintenance, you must make the actuation separate from the support.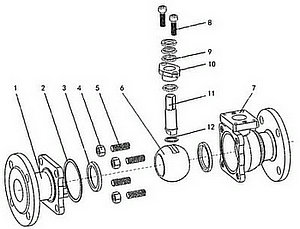 1.Lock the filer
If the filer is slightly leaking, the stem nut needs to be locked tightly.
Caution: don't lock it too tight. The leakage will stop when locking it at 1 / 4 ring or 1 ring.
2.Replace seats and seals
A.Removing
Leave the valve in half open position before cleaning the dangerous materials inside and outside the valve.
Close the ball valve; remove the bolts and nuts from both sides of flanges and the valve on lines.
Remove the actuation, connecting bracket, preventing losing loop, bolts, butterfly spring, glam, wear plate and stem packing.
Remove the connected bolts and nuts to remove the bonnet gasket after they are separated.
Confirm the close and stop place of valve balls. And you can take it from valve easily to remove the seat.
B.Reassembling
Clean and check the parts that removed. We recommend that you had better use parts package to replace seats, bonnet gaskets and seals.
Assemble it in reverse dissemble order.
Use the standard torque and lock the flange bolt.
Use the standard torque to lock the nut tightly.
When the actuation is installed, rotate the corresponding input signals by rotating valve rod, moving the valve to its open or close positions.
If it is possible, you should test the sealing pressure and performance of valves in accordance with standards before the installation of lines.
Related recommendation: