Author: Published time:2016-11-04 16:41 Reading times:905
TJL company has extended the size range of its Series 713 swing check valve to include 2 to 4 inch (50 to 100 mm) sizes. The additional sizes enable the grooved-end type check valve to be used on a wider range of high-pressure piping line systems, offering operators quick, simple installation and maintenance.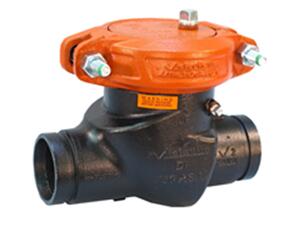 The TJL Series 713 swing check valve have higher working pressures than previous designs for greater versatility. The Valve designed for headers that feed upstream facilities as well as other high pressure services, it can be used in applications requiring Class 300 pressure ratings. The 2-inch (50 mm) valve is rated to 1,000 psi (6,895 kPa), while the 2½-, 3- and 4-inch sizes (65 to 100 mm) are rated to 750 psi (5,170 kPa).
Related recommendation:
Global control valve Market Review and Outlook
Encryption soft seal gate valve structural characteristics
High pressure valve technology into the bottleneck of the valve market in China
Product recommendation:
Double Flanged Dual Plate Check Valve
Single Disc Swing Check Valve Short Series