Author: Published time:2016-11-28 16:19 Reading times:926
Characteristic:
Ball valve is not only simple structure, good sealing performance, but also in a certain nominal diameter, it's light weight, material consumption, installation size, and drive torque are small, easy to operate, easy to achieve fast opening and closing. Ball valve is one of the fastest developed valves during the recent 10 years. Ball valve is evolved by the plug valve, and its opening and closing parts as a sphere to achieve the purpose of opening and closing with the use of body around stem axis of rotation 90 °. Ball valve in the pipeline is mainly used for cutting, distribution and changing media flow direction, designed to V-shaped ball valve opening also has a good function of flow control.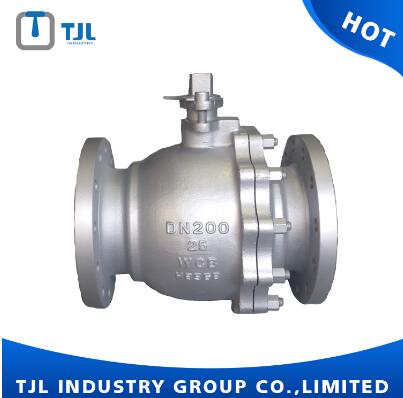 Especially in the United States, Japan, Germany, France, Italy, Spain, Britain and other industrialized countries, the use of ball valves is ranged. And the types and quantities expand to the direction of high temperature, high pressure, large diameter, well sealed, long Life, excellent regulating performance and multi-functional used, its reliability and other performance indicators have reached a high level, and has partially replaced gate valve, globe valve, throttle valve. With the technical progress of the ball valve, in the foreseeable period, especially in the oil and gas pipelines, the oil refining cracking equipment and the nuclear industry will have a wider range of applications. In addition, in the medium-sized caliber, low pressure areas, the ball valve will also become one of the leading types of valves in other industries.
Ball valve performance range:
DN 10 ~ 600mm
PN1.6 ~ 16MPa
Applicable medium: water, oil, steam etc.,
Manufacturing Standards(GB ANSI JIS API DIN): Non-standard customizable
Related recommendation:
THE MAIN CHARACTERISTIC OF BALL VALVE
Product recommendation:
Class 150 Carbon Steel Ball Valve
Actuated Stainless Steel Ball Valve