Author: Published time:2017-07-31 16:38 Reading times:909
The Work Principle of a Butterfly Valve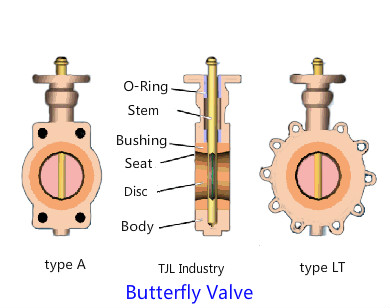 A butterfly valve is a valve whose opening and closing are achieved through stem control disc. In the cylindrical channel of a butterfly valve body, the disc rotates with an axis, and to control the fluid, rotating disc to 90°. The valve will open fully when the disc reaches 90°. At the same time, you can control the water flow by changing the angle of disc, which is installed at the diameter direction of piping.
A butterfly valve and a stem can't lock by itself. It's necessary to install worm gear reducer in order to adjust effectively water flow. Thus, the butterfly valve can lock by itself, and change its performance and adjust its flow more accurately.
1. The fluid resistance is small when the valve openes fully. The application of butterfly valves is very common in the field of large caliber regulation since they can control fluid accurately when opened about at 15°~70°. Due to the disc movement of butterfly valve features wipe, most of them can be used for the flow with suspended solid particles. According to the strength of the seals, it can be used for flow with powder and particles.
2. It is applicable to controlling fluid. Due to relatively high pressure losses, about three times of gate valves, you should consider fully about the pressure losses of the pipe system, and consider the pressure strength of the disc given by flow when the disc is closed. Besides, you should think about the bear limitation of resilient seat materials at high temperature.
It's structural length and overall height are relatively small, the opening and closing speed fast, and performance in fluid control good. Its structure is most appropriate to make large diameter valve. The priority is to choose correctly the specification and type to make it work properly and effectively when need it to control flow.
Butterfly valve features:
(1)Simple structure, small dimensions. Due to tight structure, short structural length, small size, light weight, it is used for large diameter valve.
(2)The fluid resistance is small due to the flow area of seat channel is relatively large when it is full opened.
(3)On-off speed is rapid. And the regulation performance is premium. The opening and closing can be finished when the disc rotate to 90°.
(4)Opening and closing torques are small. Since the effect of medium on butterfly valve at two sides is the same, so the directions of torque are opposite, resulting in less force used.
(5)Excellent sealing property in low pressure. The reason is that rubber and plastic was used for sealing face materials. Limited by materials, it is smaller on the use pressure and working temperature of butterfly valves. But the hard sealing valves have been improved greatly about its use pressure and working temperature.
Related recommendation:
Double Eccentric LUG Butterfly Valve 4 Inch

Full Lining Rubber Double Offset Butterfly Valve DIN3354