Author: Published time:2016-09-14 11:22 Reading times:1219
Good news from TJL Industry Group! Again good news from TJL Industry Group!
TJL is fully committed to serving for contractors in water supply and drainage engineering industry. In order to open and explore southeastern Asia market under the trend of the China-proposed "Belt and Road", we are going to join the exhibition at the Jakarta Convention Center on November 9th to 11th, 2016. Our exhibition booth or exhibition stand is S815, area IIICE. We expect you to talk over business together!
See you there!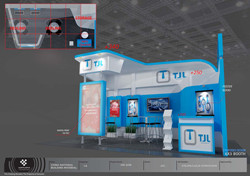 Who is TJL Industry Group?
TJL Industry Group delivers success where time and money are of great importance to our customers' needs. During the past 20 years, we always pay attention to the development of fluid industry. So we formed a group company, which is handling of valves, actuator, pipe and fittings products, to provide the whole system solution for customers in the fluid industry field. Its valves meet the industry requirements for normal valves: ISO9001, CE, NSF, TS, WRAS. Since the company establishment, it has produced a large number of valves, especially butterfly valves. These years, it has manufactured new butterfly valves to replace old ones. They pass more than 10.000 tests at PN16. A part of eccentric butterfly valves it produced are small in size and light in weight, easy to install and maintained. By moving the disc off the centerline of the butterfly and a few other mechanical tricks the offset, a valve can may reduce wear when seating and unseating, double offset butterfly valves are reliable butterfly valve too for handling higher temperature and pressure applications.
A butterfly valve can be employed in many different fluid services and they perform well in slurry applications. The following is some typical applications of butterfly valves: cooling water, air, gases, fire protection etc Slurry and similar services vacuum service high-pressure and high-temperature water and steam services.
Advantages of butterfly valves are rendered below: Compact design requires considerably less space, compared to other valves, light in weight, quick operation requires less time to open or close, available in very large sizes, low-pressure drop and high-pressure recovery.
Disadvantages of butterfly valves are rendered below: throttling service is restricted to low differential pressure, cavitation and choked flow is two potential concerns, disc movement is unguided and affected by flow turbulence.
Our company is providing the service for the customer worldwide, including from Europe, America, Asia, Middle East and Africa. Our products can be used for water supply and drainage, oil, gas, chemical industry and so on.
Through many years globalization development, our company has established good relationship with very famous brand in the world, such as KSB, TTV, TECOFI, IMI and etc. We work with many laboratories and university in China, which continuously improve our products performance and talent reserve. Through stable and high-quality products, we could provide much better products experience for all consumers.
We hope we can use the professional products and premium service, to bring you an extraordinary client experience!