Author: Published time:2016-11-25 15:19 Reading times:944
Ball valve is the ball as the opening and closing parts, the ball is around the stem axis rotating to achieve opening and closing. The advantages of ball valves are small size, light weight, fewer parts, easy to use. There are many types of ball valves, that is V-type ball valve, pneumatic V-type ball valve, fixed ball valve, O-type ball valve. At present, the ball valve has been widely used in oil and gas pipelines, oil refining cracker and the nuclear industry. In addition, in the large and medium diameter and low pressure areas are gradually beginning to use ball valve in other industries.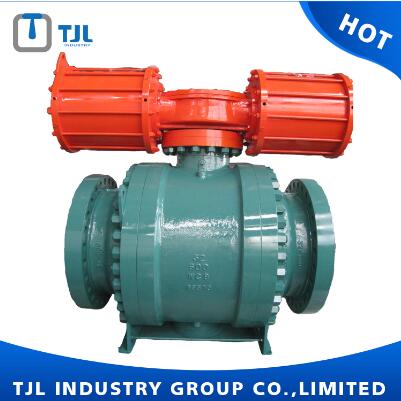 The selection of high-quality ball valves needs to monitor three projects: visual inspection, torque detection and sealing performance testing. In the appearance, we need to check if the ball valve bolt has enough adjustment margin, and if the body has ball cracks, whether the thread is defective. The ball valve will be leaked with a certain value of torque. Therefore we need to make a certain anti-torque test when selecting the ball valve, in order to accurately grasp the anti-torque value of the ball to distinguish the performance of various ball valves. Torque test can be tested by ball valve anti-torque testing machine. Sealing performance testing is necessary for ball valves used in medium, high pressure and flammable hazardous media. When testing, the gas should be exhausted as far as possible, and then pressurize the body, ventilate or water. If you make the water sealing test, you should drain the internal water, seal, and paint with anti-rust paint, closed the entrance of the ball valve, make records for future use. For the unqualified ball valve, you should immediately make disintegration resections, re-assembly and testing. Ball valve sealing test can also be used by ball valve sealing tester.
Related recommendation:
DESIGN OF A TRIPLE ECCENTRIC BUTTERFLY VALVE
HOW DOES A TRIPLE ECCENTRIC BUTTERFLY VALVE WORK
Product recommendation:
API6D Class 600 Carbon Steel Ball Valve
API6D Class 300 Carbon Steel Ball Valve
One Piece Wafer Flange Ball Valve